The Rock Skills Learn to Lead Sport course is your ticket to getting on the sharp end. We'll look at everything you need to know to climb on bolts, from lead belaying, clipping bolts, stripping anchors right through to the dark arts of clip-sticking. Even if you're looking more to get into trad climbing eventually, the skills learnt leading on sport routes will put you in good stead for moving on to our Rock Skills Learn to Lead Trad course.
Course Aims
By the end of this course you'll;
Have had an enjoyable time climbing on real rock
Have climbed at some great sport climbing venues
Have the skills to lead bolt protected sport routes on rock and indoors safely
Be ready to move on to a Learn to Lead Trad course
Syllabus
Below is a rough idea of what we'll cover, as ever we're flexible and adapt to different needs and experiences.
Background and Planning – choosing suitable venues and routes, how to use guidebooks and mobile devices to find crags and routes, crag etiquette, the importance of the climbing partnership, the work of the mountaineering councils.
Climbing Skills – safe and assured movement on the lead and optimising natural rests for clipping bolts.
Equipment – ropes and technical equipment for sport climbing.
Technical Skills – fixed equipment, anchors, ropework, belaying, holding/taking falls in a controlled environment, lowering, lower offs and abseiling.
Environmental Knowledge – the impact of climbers at the crag, ethics, access and environmental considerations for climbers.
Hazards and Emergency Procedures – identifying hazards, decision making and managing risk, understanding common injuries, what to do in the event of an incident, managing common problems, how to get help and the role of the Mountain Rescue.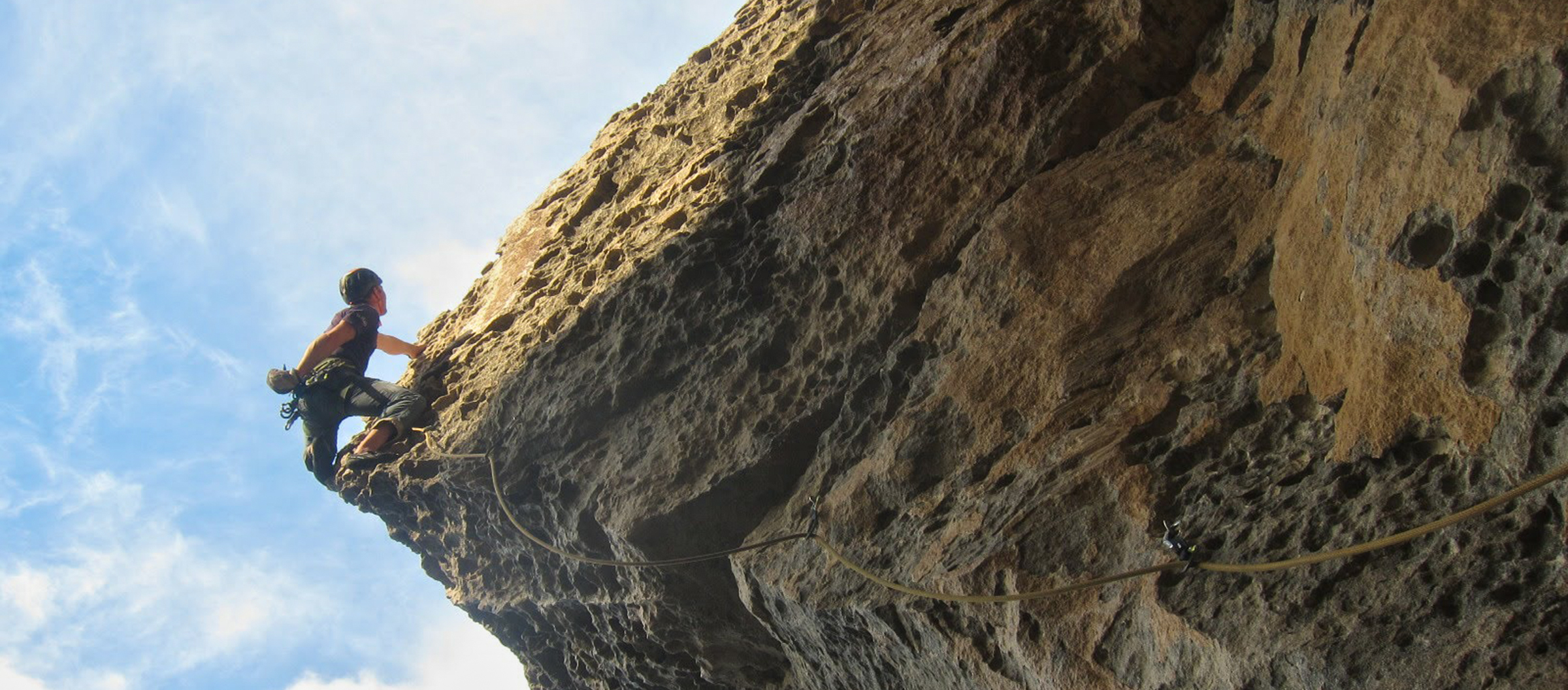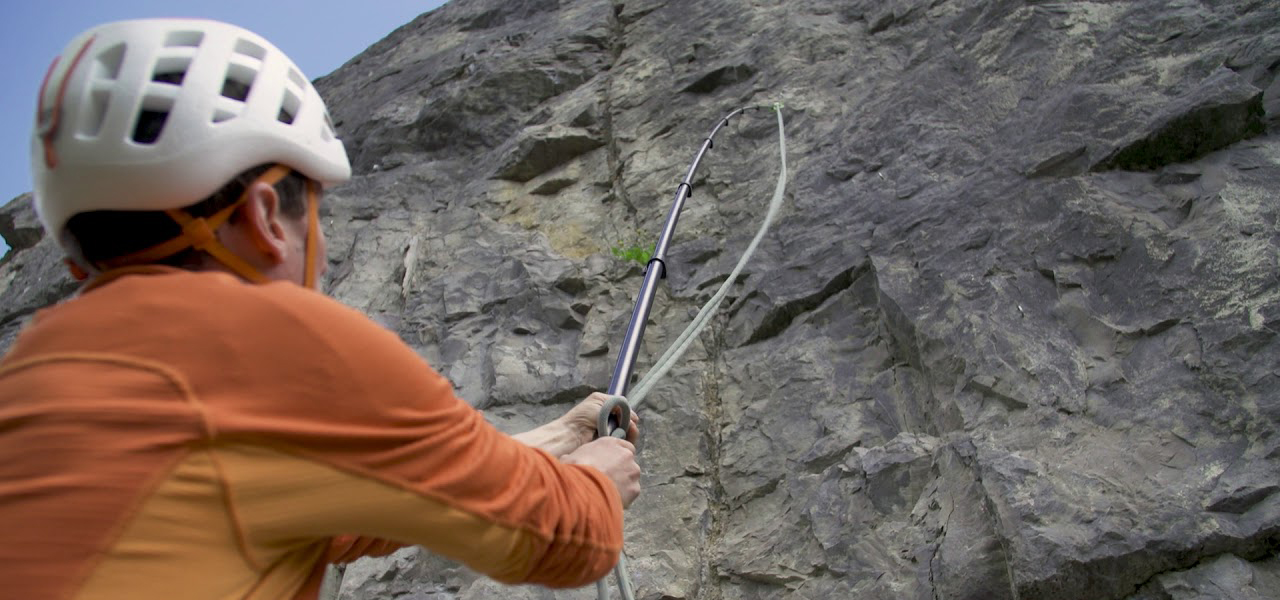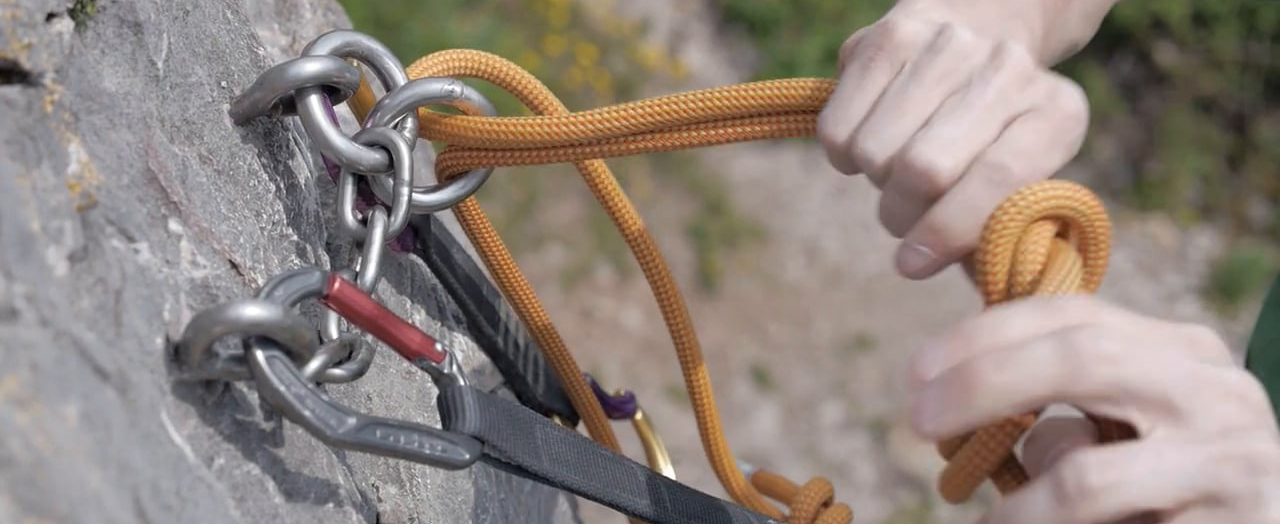 You'll need a few basic climbing skills to be up to speed for this course and get the most from it. Either you'll have attended the Rock Skills Intermediate course or already be a competent top rope climber and belayer:
20 routes climbed indoors or outside and 20 belays of a fellow climber as a minimum.
If you're unsure, consider booking on a Rock Skills Intermediate course first to build your experience and confidence.
Ideally you'll already be leading at your indoor wall which will give you more confidence for leading outside.
The itinerary below isn't set in stone; by design we're flexible to adapt to the weather and varying experience and the below is an outline.
Day 1
The Nuts & Bolts of Sport
Course Start 08:30 - introductions and discussion of your aims and aspirations over tea & coffee.

Planning Information - looking at weather forecasts, guidebooks, access and venue choice.

Collect & Check Kit - technical equipment handed out (e.g. helmets, clipsticks, quickdraws) and personal kit check.

Travel to Crag - we'll organise lift-shares to reduce impact and ease parking. There's a great deal of climbing nearby; though we may drive up to 30 mins to escape rainy forecasts.

Outdoor Climbing - walk in to the crag to the crag, warm-ups and refresh basic skills. We'll then start developing the skills required for sport climbing progressively, looking at lead belaying, assisted-breaking devices, clip-sticks, using quickdraws, assessing bolts, setting up top ropes, communication and cleaning lower offs. Throughout, we will be sure to get plenty of climbing in practicing the skills.

Return to Basecamp - return to Basecamp for around 16:00, grab a well-earned brew and review the day.

Theory session - background information on hazards, emergency procedures, history and ethics of bolting.

Day Finish - usually we'll wrap up the day around 16:30.
Day 2
Getting on the Sharp End
Morning Brief 08:30 - weather brief and plan the day as a group over tea & coffee.

Consolidate Skills - consolidation of newly learned skills, and if you're feeling prepared and confident, get you leading your first sport climbs. We'll build this up gradually on climbs at your ability.

Problem Solving and Bailing - skills for backing off routes safely, abseiling and retrieving quickdraws on awkward traverses or overhangs.

Return to Basecamp - return to Basecamp for around 16:00, hand in kit, grab a well-earned brew and review the day.

What Next? - your instructor will discuss a personal development plan and we'll email out post course resources to help you on your sport climbing journey.

Course Finish - usually we'll wrap up the course around 16:30.
We provide a detailed kit list available for each of our courses so you know exactly what kit you'll need and what we'll provide. We appreciate outdoor kit can be pretty pricey so we'll advise where is best to spend your money and what kit we really rate.
We have also set up a 15% discount for Mountain Independence clients with
V12 Outdoors
. They are our favorite climbing shop with an amazing range of kit, super friendly and knowledgeable staff and they're very local – exactly 100m from our door in Llanberis!
The Rock Skills Learn to Lead Sport course is one of 4 courses in the Mountain Training Rock Skills scheme. By registering you'll also receive;

Certificate of Completion
Accreditation with Mountain Training
The Rock Skills Scheme handbook
The BMC New Climbers handbook
Ongoing access to the Mountain Training Digital Logbook – a great place to record your climbing endeavours – especially if you're considering pursuing any of the Mountain Training qualifications in the future.
If you would like to be registered with Mountain Training (not obligatory) for the Rock Skills scheme then we'll also need the Name, Email, Date of Birth and Gender for each participant to be able to add their registration details.
There's no requirement to register with Mountain Training if you'd prefer to just join the course but you won't receive the certificate and have the course accredited.
General FAQs
For more generalised questions please visit our FAQs page or for questions specifically relating to the Rock Skills Learn to Lead Sport course see below.
Rock Skills Learn to Lead Sport FAQs